Newborns:
We can help you with your breeding animal needs, including treatment of dystocia (difficult labor), caesarean sections, newborn wellness checks, dew claw removals and tail docks. Young puppies and kittens, along with their mothers, should be dewormed at three weeks of age.
---
Puppy and Kitten:
Starting at six weeks of age, your new puppy or kitten should be seen for a general wellness exam, vaccinations and deworming. We tailor the vaccine schedule to each individual pet's needs. At each booster vaccine visit, we will re-evaluate the health of your new pet, answer any questions you might have about its care and training, and keep it on track with important heartworm and flea/tick preventatives. We generally recommend that spays and neuters be performed here at 5-6 months of age.
---
Adult Pets:
We recommend annual wellness exams for adult pets. At your appointment, your pet will also be tested for heartworms, gastrointestinal parasites and vaccines will be boosted. Also, we recommend keeping your pets on monthly heartworm and flea prevention year-round, with tick preventatives based on exposure risk.


---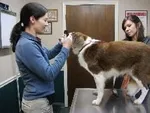 Geriatric Pets:
Senior dogs and cats are enjoying longer lifespans with better quality of life, and also benefit from annual wellness exams. In addition to boosting necessary vaccines and running heartworm and fecal tests, we will carefully examine your pet for any age-related changes such as dental disease, tumors, lameness and behavioral issues. We also recommend senior blood panels for screening of many diseases which are manageable if caught early.